I argued in "The story of how Jesus died for everyone (longer version)" that the account of Jesus' death in Hebrews highlights both the constraints of the Jewish narrative and the importance of the martyrdom motif for soteriology. I suggested that the "saving significance of Jesus' death is mediated to the world precisely through the story of the suffering of the early martyr church". Having reflected on a brief exchange with Peter Wilkinson that ensued, I have sketched here, very roughly, what seem to me the three main ways in which we can locate the event of Jesus' death and resurrection in history.
The a-historical paradigm
The popular or traditional understanding of Christianity has Jesus arrive more or less out of the blue in the centre of world history to save mankind from its sins. The Old Testament is useful because it contains prophecies of this singular event, but the history of Israel is largely irrelevant. The church is the institutionalized—sometimes highly institutionalized—outcome of the universal salvation that is found in Christ. Its mission is mainly to convert, assimilate, and expand until Jesus returns.
The half-historical paradigm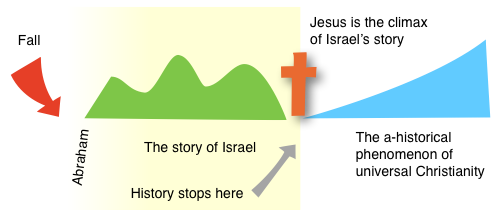 This view fully embraces the historical narrative leading up to Jesus, but once we have arrived at the climax of the covenant, the climax of God's redemptive purposes through Israel, history as theologically significant narrative comes to an abrupt halt. Then we revert to the a-historical paradigm. After Pentecost the next event of theological significance is the second coming of Jesus at the end of the world. The half-historical people sometimes acknowledge the importance of the destruction of Jerusalem and the temple as the dreadful terminus of the Old Testament story. The main gain from taking the Old Testament narrative more seriously is a broader sense of the corporate nature of the church as an extension of the concrete existence of Israel.
The consistent historical paradigm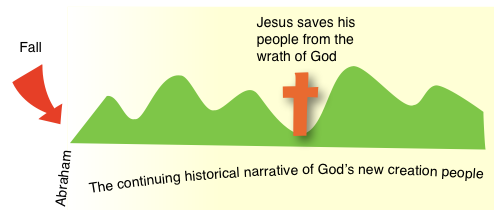 My preferred consistent narrative-historical paradigm inserts the event of Jesus' death and resurrection firmly into the continuing existence of a people that finds its identity and purpose in the calling of Abraham to be the father of a new creation. The people of God is radically changed by this event: it becomes a supra-ethnic community of the Spirit under the lordship of Jesus that will, in some sense, inherit the world. But the basic template remains the same: it is new creation in microcosm in the midst of the nations, for the sake of the creator God.
Under this paradigm theologically significant history does not stop with Jesus. Subsequent events are just as important, whether predicted by the New Testament (the destruction of Jerusalem, the vindication of the suffering churches, the defeat of pagan Rome), or not (the collapse of Christendom, the triumph of secular rationalism, and so on, indefinitely).