I have started reading Frederick Murphy's book [amazon:978-0801039782:inline]. Why? Because I think that the theological paradigm for interpretation of the New Testament has passed its sell-by date and that apocalyptic is a crucial component of the alternative historical paradigm. The book is described as a "Comprehensive Introduction", and it appears to be just that.
One of the things that Murphy discusses in the opening chapter is the relationship between apocalyptic and prophetic literature. A key difference has to do with how they deal with history. Both genres expect divine intervention in human affairs, but whereas in the case of prophecy "that intervention deals with a specific historical situation and the resolution results in something not so different from what preceded it", apocalypticism generally predicts an imminent end to history (21). Significantly, Murphy points out that in prophecy the language of "cosmic disruption"—of a "new heaven and new earth", for example—is "for the most part metaphorical". I would argue that this is also true for much apocalyptic writing, but that is not really the point I want to make here.
A couple of pages later there is a section entitled "When Prophecy Fails". Murphy makes the obvious point that so far all predictions of the end have bitten the dust—so why do people keep doing it? "One might think that after more than two thousand years, apocalypticism would have been definitively discredited and would have lost its attraction" (24).
To account for the persistence of the apocalyptic outlook Murphy briefly outlines the theory of Festinger, Riecken and Schlachter that it is driven by cognitive dissonance. When experience clearly contradicts belief, people will often attempt to reduce the tension "first by believing even more strongly in their original conviction and second by converting more people so that they have more social support". In other words, when a person finds himself stuck in a hole of cognitive dissonance, he is likely to try to solve the problem by making matters worse—not only by digging deeper himself but also by inviting other gullible people to dig with him.
Perhaps that's true. But in the course of this analysis Murphy makes the stark observation that:
Many do not realise that Christianity itself is the result of failed prophecy. Jesus apparently expected the kingdom of God to come soon, and this urgent expectation of an imminent end pervades the New Testament.
There is still a lot of the book to go, including sections on the Gospels and on Jesus as an apocalyptic prophet, but why is the possibility not at least considered that Jesus was more a prophet than an apocalypticist, that he spoke about an end within history rather than the end of history, and that his sparing use of the language of cosmic disturbance was metaphorical? Why are such possibilities allowed in general in Murphy's introductory chapter but ruled out for Jesus?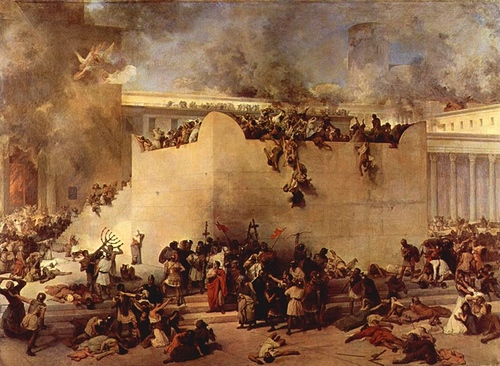 The omission is all the more remarkable given that the front cover shows Francesco Hayez' painting The Destruction of the Temple in Jerusalem. If Jesus was anything, he was a prophet who drew widely on Old Testament narratives of judgment and restoration to speak about the crisis facing first century Israel. Surely, then, the place to start in any discussion of Jesus' "apocalyptic" language is with the towering historical fact that he was believed to have predicted judgment against the temple and that this prediction was fulfilled. This was at least a central part of what he meant when he said that God would act decisively within a generation, within the lifetime of many of those listening to him, to establish his kingly rule with respect to his people.