Read time: 4 minutes
I asserted a while back that there is no evidence in the Gospels that Jesus had anything to say, directly or indirectly, about homosexuality. I don't think he threatened pederasts with drowning, or asked people if they had gone out into the wilderness to see a gay man in effeminate clothing, or included homosexuals in the category of eunuchs. In a comment, however, Peter Wilkinson drew attention to the argument, put forward here and elsewhere, that Jesus knowingly healed the centurion's catamite, thus affirming their same-sex relationship (Lk. 7:1-10; Matt. 8:5-13). Is there any reason to think that this "honoured" slave served a sexual purpose? Again, probably not.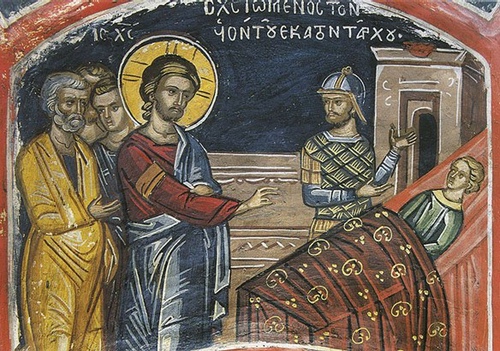 First, no positive reason is given in the article for supposing either that the traditional understanding (a highly valued servant) is suspect or that the meaning "junior or younger male partner" presses for consideration. The main exegetical argument offered in support of the homosexual interpretation is that the phrase "honoured slave" makes sense only if it describes a sexual partner. But while the high regard that the centurion had for his servant may have been out-of-the-ordinary—the centurion was clearly an out-of-the-ordinary Gentile—I don't see how there is anything illogical about the notion.
The adjective entimos can mean "honoured", but it is also used for valuable or valued objects—for example, "precious" stones (Is. 28:16; Tob. 13:16; 1 Pet. 2:4, 6; 1 En. 24:2). The only instance of entimos used with either doulos or pais (see below) in the Perseus Digital Library is Luke 7:2; and I can't find anything that points to entimos being specially used to describe a sexual partner.
In the Septuagint God is "honoured", a name is "honoured", Israel is "honoured" or "precious"; or the word denotes "distinguished" members of a society. It is naturally contrasted with atimos, "dishonourable" (e.g., Is. 16:14; Sir. 10:19), which weighs against the sexualised interpretation. Luke uses the comparative entimoteros for the "more distinguished" person who might be invited to a wedding feast (Lk. 14:8). This all points, again, to a servant who is held in unusually high regard in the household, but nothing more than that.
The word pais is also used for the sick servant (Lk. 7:7; cf. Matt. 8:6, 8, 13). This word can mean "son" or "child" (Jesus is a pais in Luke 2:43) and no doubt was used in Greek literature for a man's younger male lover, though I don't have any examples to hand. But it is also a standard term for a slave or servant and at most carries overtones here of a particular affection.
The following exchange from Aristophanes' (c. 446 - c. 386 BC) play Acharnians 393-402 illustrates how both pais and doulos could be used by the same person for the same slave (pais in the vocative merely has more personal overtones), and how one slave might be more highly regarded than another—in this case, on account of his quick wit:
DICAEOPOLIS: The time has come for me to manifest my courage, so I will go and seek Euripides. Ho! slave, slave (pai pai)!

SLAVE: Who's there?

DICAEOPOLIS: Is Euripides at home?

SLAVE: He is and he isn't; understand that, if you have wit for't.

DICAEOPOLIS: How? He is and he isn't!

SLAVE: Certainly, old man; busy gathering subtle fancies here and there, his mind is not in the house, but he himself is; perched aloft, he is composing a tragedy.

DICAEOPOLIS: Oh, Euripides, you are indeed happy to have a slave (doulos) so quick at repartee! Now, fellow, call your master.
So on the limited lexicological, exegetical and literary evidence it's very difficult to see why entimos in the story of the centurion's servant shouldn't have the straightforward sense "highly valued". Nothing in the passage gives us reason to question this reading or suppose that there is some innuendo attached to the word.
Indeed, we have to ask whether the elders of the Jews in Capernaum would have been quite so eager to intercede with Jesus on behalf of the centurion if they had thought that it was his male lover who was sick. It is much more likely that this God-fearing centurion had been attracted to Judaism in the first place by its distinctively non-Greek ethical standards. Is it conceivable that he would have had such a positive relationship with the Jews—he built them a synagogue!—if he had been openly flouting the taboo expressed in Leviticus 18:22?