In good off-the-cuff biblical language Donald Trump has warned that North Korea's recent salvo of threats "will be met with fire and fury like the world has never seen".
Jesus said that the Roman assault on Jerusalem would result in "such tribulation as has not been from the beginning of the creation that God created until now, and never will be" (Mk. 13:19). Josephus shared his view: "Accordingly it appears to me, that the misfortunes of all men, from the beginning of the world, if they be compared to these of the Jews, are not so considerable as they were" (War 1.12). Both of them, I imagine, were recalling Daniel 12:1: "there shall be a time of trouble, such as never has been since there was a nation till that time".
The disciples didn't quite ask if they could call down "fire and fury" from heaven to punish a village of unreceptive Samaritans, but you can see why Nate Pyle thought that Jesus' response might be appropriate under the current circumstances:
So is Jesus a model for American pacifism? As was reflected in the comments on Pyle's tweet, it's all about context.
The disciples presumably imagined that they were following the example set by Elijah, who called down fire from heaven to consume two delegations sent by Ahaziah, king of Samaria (2 Kgs. 1:1-16). Ahaziah's mistake had been to send messengers to enquire of Baal-zebub, God of Ekron, regarding his health. "Is it because there is no God in Israel that you are going to inquire of Baal-zebub, the god of Ekron?" The head of a third delegation sought mercy from Elijah and survived.
Shortly after this incident, however, Jesus said that the Jewish cities of Chorazin and Bethsaida would fare worse than the pagan cities of Tyre and Sidon when judgment came. "And you, Capernaum, will you be exalted to heaven? You shall be brought down to Hades" (Lk. 10:15). He meant, of course, that the inhabitants of these cities would be killed in the course of the Jewish War against Rome. In fact, Jesus expected few Jews to survive the coming judgment (Lk. 13:22-30).
Jesus made it clear that this generation of Jews would suffer the devastating judgment of God in the form of war. The blood of the prophets would be required of the current generation of Jews (Lk. 11:49-52). Jesus had come to cast fire on the land, he had come not to bring peace but division (Lk. 12:49-53). People in Jerusalem would perish in the same manner as the Galileans killed by Pilate or the eighteen on whom the tower in Siloam fell unless they repented (Lk. 13:1-5). In other words, they would die when Rome destroyed Jerusalem and the temple. He described what would happen to Jerusalem in vivid detail: "For the days will come upon you, when your enemies will set up a barricade around you and surround you and hem you in on every side and tear you down to the ground, you and your children within you" (Lk. 19:43–44). The master of the vineyard would come and destroy the wicked tenants who killed his son (Lk. 20:16). Nation would rise against nation, Jerusalem would be besieged, the Jews would be slaughtered or taken into exile, and Jerusalem would be trampled under foot by the Gentiles. This would not be just an accident of history: "these are days of vengeance, to fulfill all that is written…. For there will be great distress upon the land and wrath for this people" (Lk. 21:22–23)
So yes, Jesus looked favourably on the people of Samaria. At a time of eschatological crisis they were not the problem. It was his own people, the Jews, who were the problem. Unless they repented, the full force of Rome would be brought down on their heads—not fire from heaven, exactly, but just as destructive. In Luke good Samaritans serve the purpose of putting Israel to shame (Lk. 10:30-37; 17:17).
Jesus taught his followers not to resist their enemies (cf. Matt. 5:38-44), whether Jews or Romans, because they were not to be part of the conflict that would culminate in such dreadful devastation and loss of life. They were to keep off the broad road leading to destruction and stick to the narrow path that would lead to life, no matter how difficult it got.
Paul's perspective would be wider. There would be wrath against the Jew, but there would also be wrath against the Greek (Rom. 2:6-10). So the believers in Rome were to bless those who persecuted them, repay no one evil for evil, never avenge themselves, give food and drink to their enemy in order to "heap burning coals on his head" (Rom. 12:14-21).
But still, the enemy would not escape the wrath of God, 'for it is written, "Vengeance is mine, I will repay, says the Lord"' (Rom. 12:19).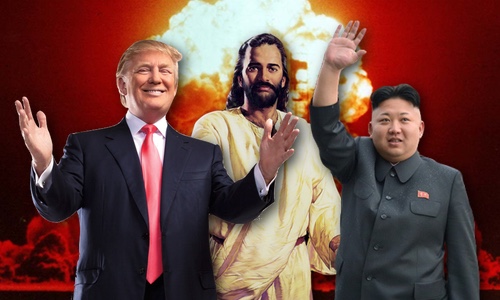 Does any of this have a bearing on the escalating crisis between America and North Korea?
Both Jesus and Paul taught their followers how to respond to violence during a period of eschatological crisis. Jesus expected the Jews to suffer a violent fate, and I think we have to say that in his view this would be the expression of God's wrath against his people—the negative side of the climax of the covenant. Whether the apostles imagined that Rome would also be overthrown by violence is less certain. In any case, the central conviction was that the church would overcome Rome by its faithful, persistent witness to the truth that God had raised his Son from the dead and put him in control of history; and that Jesus would defeat his enemies by the breath or sword of his mouth (2 Thess. 2:8; Rev. 19:15, 21).
I assume that the church is bound by the same ethic today. If the church suffers violence on account of its witness to the Lordship of Jesus, it may not retaliate. The church of Jesus Christ must love its enemies, bless those who persecute it, and so on.
Outside of that narrow context, matters seem to me less clear.