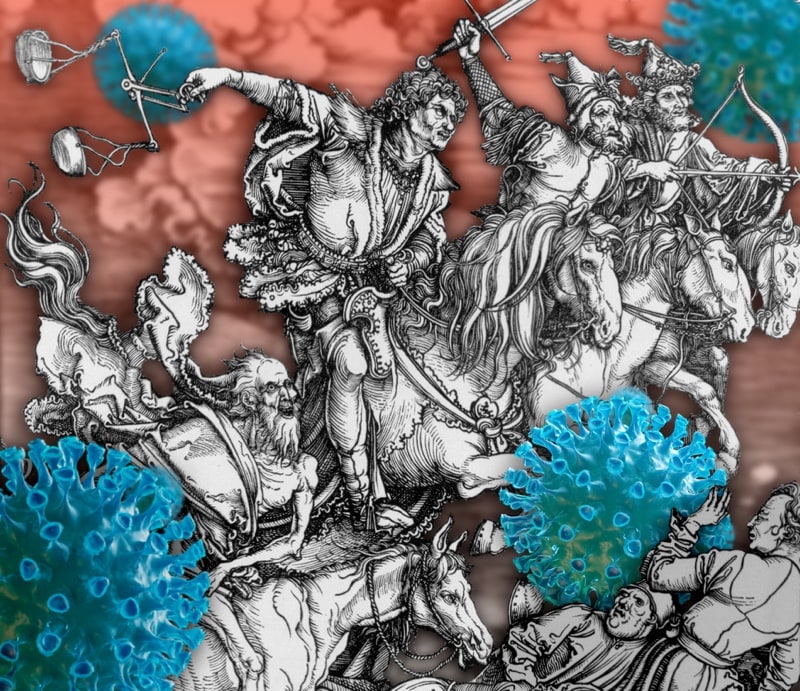 Ben Sciacca's Gospel Coalition piece on "Coronavirus as Dress Rehearsal" had me fooled. Aha! I thought. That's exactly what I've been saying. The pandemic is a dress rehearsal—a foretaste, a harbinger, a portent—for far more serious things to come. Conservative evangelicalism in America really is moving in the right direction.
Lots of people, Sciacca says, think that the pandemic will blow over quickly and everything will return to business as usual. But we don't know that for sure.
When Jeremiah complained to God that people were ignoring him, he got the ominous response: "If you have raced with men on foot, and they have wearied you, how will you compete with horses?" (Jer. 12:5).
"What if our present battle with COVID-19 is just the footrace?" Sciacca wonders. "Perhaps our competition with horses is yet to come."
Yes, exactly right!
How long can we live with social distancing, with no access to schools, gyms, churches, book groups? How are we going to cope with the inevitable economic slump?
We could be in crisis mode for a long time. But, Sciacca suggests, we may "derive great benefits if we endure—even embrace—this current crucible as a dress rehearsal rather than a mere season of suffering".
So three things to consider, as he sees it.
First, it's an opportunity to live with scarcity. Yes, I'm thinking, climate change could have a massive impact on global food supply.
Secondly, Jesus warned his followers not to be rich fools who store up wealth for the future (Lk. 12:13-21). Yes, to be sure, the looming environmental crisis will devastate economies, ruin pension schemes.
Thirdly, "Christians are learning how to connect, worship, and commune through new and creative measures". Well, yes, that's true, and it's putting the internet under considerable strain….
But then it suddenly becomes clear that he's not talking about climate change at all or anything remotely connected with it.
Under coronavirus lockdown the church is having to learn to pursue its mission in the face of adversity and constraint just in case persecution is coming. "The strain of footraces and our willingness to faithfully stay the course will give us the grit and resolve to run with the horses when that day comes."
Coronavirus is a dress rehearsal for persecution. And to press the point him he quotes Hebrews: "let us run with endurance the race that is set before us, looking to Jesus, the founder and perfecter of our faith, who for the joy that was set before him endured the cross, despising the shame, and is seated at the right hand of the throne of God" (Heb. 12:1–2).
Seriously? The American church is more fearful of persecution than climate catastrophe?
What the church should really worry about is indifference, being ignored.
Or is that what he means by persecution? I suppose Jeremiah might have agreed with him on that point at least.