First, what do I mean by a "narrative-historical hermeneutic"? I mean a way of integrating the Bible into our self-understanding as the church—that is, a way of doing theology—that takes it to be the story told by a community about its historical existence over time, reaching back to the promises made to Abraham, and reaching forward—at least as I see it—to the confession of Christ as Lord by the nations of the Greek-Roman world.
That last part is too historical for most people and perhaps has to be regarded as optional for the time being. The point, though, is that our defining theology is to be constructed as a story about history that looks both backwards and forwards: it remembers what God has done in the past; it accounts for what God is doing in the present; and it imagines what God will do in the future from the perspective of the particular prophetic community.
This is in contrast to hermeneutic methods—models of interpretation—that, wittingly or unwittingly, subordinate the Bible as a historical text to a theological system (eg. Calvinism), or to an ideological construct (liberation theology, feminist theology), or to an absolutist epistemology (fundamentalism), or to an evangelistic agenda (early modern evangelicalism), or to spiritual experience (Pentecostalism), or to a missional praxis (the whole missional-incarnational thing, which is very good, but…).
Now we know what's on offer, here are ten good reasons to make the switch, complete with a colourful infographic.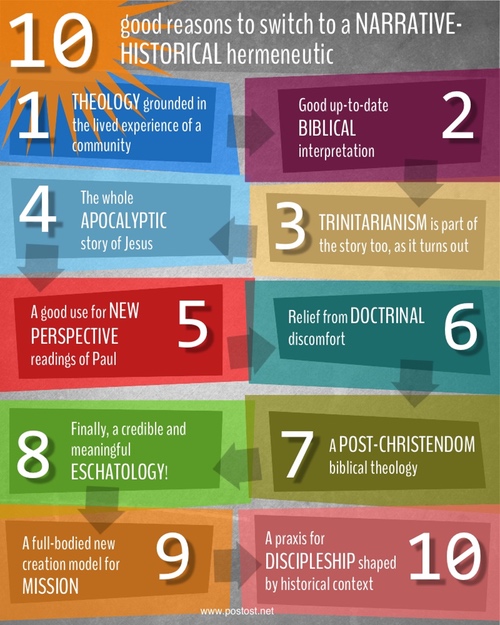 1. You get a theology that is grounded, then and now, in the lived experience of a historical community.
2. You get honest, transparent biblical interpretation as a work-in-progress, controlled not by reductionist rationalising orthodoxies but by historical context and perspective.
3. Paradoxically, you also get a hermeneutic that respects the contexts and perspectives of later traditions of interpretation. Under the circumstances, the Greek and Latin Fathers were absolutely right to come up with Trinitarianism. The preoccupation of modern evangelicalism with personal salvation was a good thing while it lasted. So what's to complain about?
4. You get access to the real Jewish apocalyptic Jesus, who was born of a virgin, who spoke as a prophet to Israel, who believed himself to be the decisive agent of impending eschatological reversal, who was killed by his opponents in Jerusalem, who was raised from the dead, who was seated at the right hand of God and given supreme authority to judge and rule over both Israel and the nations, who came to be seen as both the beginning and the end. In other words, you get the whole New Testament Jesus, not just the cool missional dude who hangs out with prostitutes and parties with sinners.
5. You get a viable interface between post-Sanders New Testament scholarship and the life and mission of the church. You get to do something useful with the New Perspective on Paul and its successors.
6. You get a much better way of dealing with many of the doctrinal puzzles and stumbling blocks that beset the modern evangelical church. The atonement makes much better sense when understood as part of the biblical narrative rather than as a theological abstraction tied to one post-biblical moral framework or another. Justification by faith ceases to be an incomprehensible metaphysical transaction and finds its place in the concrete experience of a historical community. And as for the unbiblical doctrine of hell….
7. You get a way of factoring the collapse of western Christendom into our theological outlook so that we don't have to keep pretending it didn't happen. It's not business as normal. If all we have are deeply traditioned, locked-down orthodoxies, we have no way of describing or responding to the massive cultural realignment—and marginalisation of the church—that has taken place over the last 200 years.
8. You get an eschatology that takes seriously the historical outlook of the community. The future horizon of the disciples in Judea was not the same as the future horizon of the churches in the pagan world. Our future horizon is different again.
9. You get a model for mission that cannot be reduced to personal evangelism but embraces the full social, ecological and historical existence of a community given the extraordinary privilege, freedom and responsibility of being a new creation.
10. You get a praxis for discipleship shaped by a prophetic understanding of the challenges facing the post-Christendom church as it seeks to reimagine a credible future for itself in an increasingly secular world.