Here's another example of how a theological reading can drive a coach and horses through historical exegesis. At the heart of the "theological doctrine of the incarnation," Adams writes, "is the union of the divine and human in Jesus the Messiah". Keeping in mind Wright's historical method and critique, however, he insists that this is not an abstraction from scripture:
the affirmation of the hypostatic union of the divine and human natures of the one hypostasis (ἐν δύο φύσεσιν ἀσυγχύτως, ἀτρέπτως, ἀδιαιρέτως, ἀχωρίστως) is a deeper penetration into the logic of what it means to call Jesus Emmanuel, "God is with us". (142)
But the isolation of the uninterpreted identification of Jesus as Emmanuel, "God with us", is already an abstraction from the biblical witness. No exegetical basis is given for the assumption made about the meaning of Matthew's statement. Why does Adams think that he can be so blasé about the actual interpretation of the text? Where is the "conversation" with historical method? We never get anywhere near the logic of Matthew's argument, never mind penetrate it more deeply.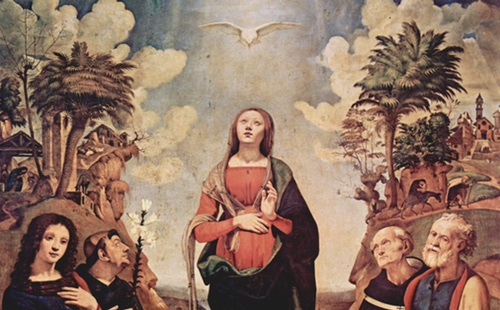 In Isaiah the child who will be born during the reign of Ahaz, whether or not to a virgin, is not an example or protoype of hypostatic union. He is a sign that at a time of extreme political crisis—Assyrian invasion—YHWH will be with his people both to judge and to deliver (Is. 7:10-8:10).
The narrative-historical assumption should be, when we turn to Matthew, that the miraculous conception of Jesus by the Holy Spirit has nothing to do with the metaphysics of incarnation—the fusion in one hypostasis of the human and the divine. It is rather a sign that at a time of eschatological crisis YHWH is again present with his people—not with humanity— to judge and to save.
Jesus is the agent of that judgment ("His winnowing fork is in his hand…") and deliverance ("you shall call his name Jesus, for he will save his people from their sins"), which is not the case with the boy born during Ahaz's reign. But there is nothing in Matthew's account of the conception of Jesus that supports the theological weight imposed upon it by tradition.
Remember—they did not call Mary's son "Emmanuel"; they called him "Jesus". It seems to me that the "logic" of the story is that just as in Isaiah the circumstances surrounding the birth of a boy underlined the prophetic significance of his name, so the circumstances surrounding the birth of Jesus underline the prophetic significance of his name, that he will save his people from their sins—no more, no less.
If you enjoyed reading this post, why not share it with associates, friends, and loved ones?