Read time: 7 minutes
I heard Rikk Watts from Regent College, Vancouver, talk this week to a group of church leaders about what's currently going on in theology. He began with some good reflections on the challenges facing anyone trying to keep track of developments across the ever-expanding—or ever more boggy—field of New Testament studies. To paraphrase his paraphrase of Bernard Lonergan, there are good ways of not knowing everything and bad ways of not knowing everything.
But the core of his argument with respect to the New Testament was that we are steadily abandoning systematic constructions of theology in favour of 1) a historical narrative about 2) a thoroughly Jewish Jesus, which 3) has been shown nevertheless to generate an early high christology. And boy, was he pleased about that!
"As it is written in Isaiah the prophet…"
The example he gave was the opening of Mark's Gospel. The appearance of John the Baptist is prefaced in Mark 1:2-3 with a combined quotation from Malachi 3:1 and Isaiah 40:3, by which Israel's story is invoked:
Behold, I send my messenger, and he will prepare the way before me.

A voice cries: "In the wilderness prepare the way of the LORD; make straight in the desert a highway for our God.
Malachi is speaking about the coming of YHWH to judge wickedness in Israel and reform a corrupt temple system. Isaiah has in mind the coming of YHWH to deliver his people from their captivity in Babylon and bring Jerusalem's humiliation to an end. Neither, according to Watts, mentions a messiah. The implication, therefore, is that John is the "messenger" who prepares the way for Jesus, who must be YHWH in person.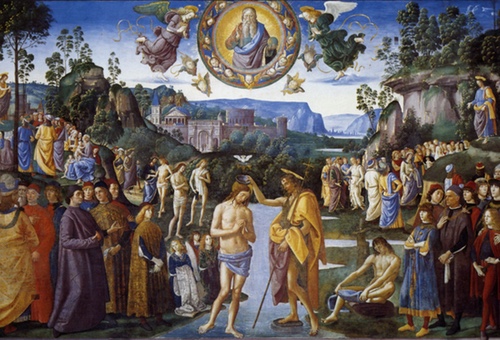 Mark has made some changes to the Malachi text: "Behold, I send my messenger before your face, who will prepare your way…." The wording may reflect Exodus 23:20 LXX, which I'll come to in a moment. Guelich notes this and argues, as others have done, that "your" refers to Jesus:
Though Jesus has not yet personally entered the scene, the evangelist assumes the reader understands Jesus to be the "Lord" of 1:3 and thus the "you" of 1:2b whose way is prepared by the following events in 1:4–8.1
But the further inference has been made that Mark is in this way directly identifying Jesus with YHWH, who is the "Lord" in Isaiah's text. For example, Bauckham:
The parallelism of 'your [i.e. Jesus'] way' and 'the way of the Lord'… is an instance of the common early Christian practice of applying to Jesus Old Testament texts that use the divine name.2
So Rikk Watts argued that in this opening scene Mark portrays Jesus first as God, as YHWH coming to save Israel by way of a second—strictly a third—exodus through the wilderness (1:2-3); and then as man, as the anointed servant who is baptised by John (1:10-11). [pullquote]Rikk is a delightful fellow and a great champion of narrative approaches to theology, but he left me unpersuaded on the christological point.[/pullquote]
I add my usual caveat: this is not an argument against the divinity of Jesus; it is an argument—or part of an argument—about how the Jewish narrative brought the church fathers to the point at which they had no choice but to assert categorically that Jesus is God.
"I send my messenger before your face…"
The statement "I am sending my angelos (messenger or angel) before your face" is found word-for-word in Exodus 23:20 LXX: God is sending an angel ahead of Israel to guard them on their journey to the "land that I prepared for you". If this has influenced the peculiar wording of Mark 1:2, then we should allow for the possibility that this is a statement about Jesus as Israel journeying to the land, as part of an underlying exodus typology. Matthew makes much more of this theme.
But in any case, in Mark's construction of the narrative, it is not the prophet but YHWH who speaks. YHWH says to Jesus that he is sending a messenger to prepare a way for him. Having made changes to Malachi 3:1 which differentiate between God who speaks ("I send my messenger") and the person addressed ("who will prepare your way"), it seems very unlikely that Mark intended his readers to infer an identification of Jesus as Lord with YHWH as Lord.
The same differentiation is found in the saying about David's Lord: the kyrios who is YHWH invites the kyrios who is a greater king than David to sit at his right hand and rule in the midst of his enemies (Mk. 12:35-36; cf. Ps. 110:1-2). Jesus is kyrios because he will be given authority to rule.
We also need to take into account Jesus' identification of himself as the Son of Man who has "authority on earth to forgive sins" (Mk. 2:10). What was regarded as a divine prerogative has been delegated to him—Matthew has the crowds glorifying YHWH because he has "given such authority to men" (Matt. 9:7). It is a remarkable enough development, but it presupposes difference not identity.
"After me comes he who is mightier than I…"
John thinks that a "mightier" person is coming, "the strap of whose sandals I am not worthy to stoop down and untie" (Mk. 1:7). But the superiority of this person consists in the fact that he will baptise not with water but with the Holy Spirit. We might suppose that it is God who gives the Holy Spirit, but when Peter explains the events of the Day of Pentecost, he says that having received the "promise of the Holy Spirit" from the Father, Jesus has "poured out this that you yourselves are seeing and hearing" (Acts 2:33).
There is some reason to think that Luke compares Jesus to Moses, who "ascended" and received the gift of the Law to give to Israel, but the point is perhaps more likely to be that, having received the Spirit at his baptism, Jesus, now seated at the right hand of God, has poured out the same Spirit on his followers, who will therefore be the Christ-like servant community through which YHWH will bring about his purposes.
"You are my beloved Son…"
If Isaiah 40 begins with a statement about the coming of YHWH, who will overrule nations and rescue his people, very quickly we are presented with the servant of YHWH, "my chosen, in whom my soul delights" (Is. 42:1; cf. 41:8-9). YHWH has put his Spirit upon him. The Lord who stretched out the heavens and spread out the earth has called his servant Jacob and will give him "as a covenant for the people, a light for the nations" (42:5-6). The way is prepared for YHWH, but what happens is that YHWH declares his delight in his servant and states his intention to use him to bring about his purposes. Indeed, YHWH's servant Israel is itself the means by which the mountains will be levelled for the journey through the wilderness:
Behold, I make of you a threshing sledge, new, sharp, and having teeth; you shall thresh the mountains and crush them, and you shall make the hills like chaff; you shall winnow them, and the wind shall carry them away, and the tempest shall scatter them. (Is. 41:15–16)
Malachi, admittedly, does not have this servant figure. But we are told what will happen to the righteous, those "who fear my name", when the day of fire comes to burn up the arrogant and evildoers like stubble. The "sun of righteousness" will rise to heal them; and they will "tread down the wicked", who will be ashes under their feet, "on the day when I act, says the Lord of hosts" (Mal. 4:3). Jesus is not spoken of in such terms, but it points to the fact that a community of the persecuted righteous, whether or not represented by a singular suffering servant or Son of Man, is expected to play a crucial role on the day of God's wrath against Israel.
This all suggests to me that if YHWH chooses to address his Son in terms that in their original context referred to YHWH himself, it is because he intends to give to him a supreme authority—as his servant, as the Son of Man who suffers because of his obedience to the Father, as the one who will be elevated to a position of royal authority superior to David's—to act on his behalf at this time of eschatological crisis.
The key christological question at this point is not how the human servant is also YHWH, but how the servant will become the exalted Lord at the right hand of God. In my view, the answer to that question is given in the story of the Son of Man, who is the suffering servant but who is given the kingdom. Mark's narrative climaxes in Jesus' declaration to Caiaphas that he will "see the Son of Man seated at the right hand of Power, and coming with the clouds of heaven" (Mk. 14:62). It is the Son or servant who suffers who will receive supreme authority to exercise YHWH's rule with respect both to Israel and to the nations.