Read time: 6 minutes
I have come across a number of people recently who, in their different ways, appear to agree that the future of evangelicalism lies ideally in a convergence of the New Perspective and emerging-missional forms of church. The question has been, though, whether such a convergence has any chance of happening given the powerful currents pulling the big ship of modern evangelicalism in quite different directions. What this diagram attempts to highlight are what seem to me to be the two main tensions or questions in the process of establishing a viable, biblically credible alternative to the old Christendom model. The diagram doesn't solve anything but perhaps it will bring a little clarity.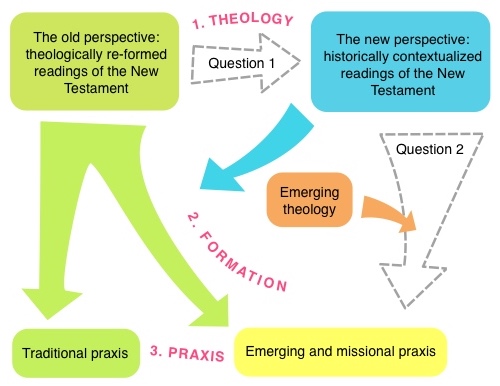 Change of theological perspective. There are two progressions or dynamics in the diagram, corresponding to the two questions. The first progression or dynamic goes from left to right, from an old theological perspective, which in most people's minds at the moment is likely to be associated with modern evangelical or neo-Reformed thought, to a new theological perspective, which has its origins in E.P. Sanders' reassessment of second temple Judaism and is familiar to many people through the work of N.T. Wright.
The old perspective. Under the "old perspective" the New Testament is read retrospectively through the narrowly focused lens of a set of theological abstractions—that is, a belief-set that has been abstracted from the texts under the particular cultural and intellectual conditions of Western Christianity and then used to control subsequent readings of the text. Traditional praxis has been grounded in this theological perspective, but so too has much of the new missional/incarnational church thinking—basically because the missional/incarnational model was developed before question 1 could be properly resolved. But we are running ahead of ourselves….
The new perspective. Under the "new perspective"—all these categories have to be rather loosely defined—the intention is to read as far as possible from within the text, prospectively, giving due consideration to the narrative constraints and trajectories generated by the historical context. It is interesting that this has emerged as a critical but faithful return to Christian origins. I suspect that it is motivated, at least in part and for some more than others, by a desire to by-pass the massive controlling influence of the Christendom paradigm.
Theology-formation-praxis. The second progression or dynamic is a top-to-bottom movement from theology through a process of formation to the concrete praxis of the church. Although this sequence looks theoretically correct, in reality the movement is often in the opposite direction: (Spirit-led) praxis forms theology. I should also say that by "theology" I mean that layer of theological enquiry that purports to be directly engaged with the reading of the Bible and of the New Testament in particular.
Emerging and missional praxis. Praxis, you will notice, comes in two different colours. A significant development in recent years has been the quite radical rethinking of the relationship between church and mission. Traditionally, church has been seen as a secure place of gathering out of the world for a very limited set of mostly "spiritual" functions. Mission was understood either as the invitation—through personal evangelism—to be part of the church, or as the sending of missionaries to establish similar institutions in distant places. In reaction against this many missiologists—Frost and Hirsch spring immediately to mind—have argued for a centrifugal or incarnational approach to mission, according to which the church is by definition a community sent into the world to be the presence of Christ. So centrifugal, so incarnational, has this movement appeared at times that David Fitch has expressed concerns about the "de-ecclesiologizing of the church's relationship to society". But that's another story.
Emerging theology. I initially left out an important theological option represented by people like Brian McLaren and Rob Bell and those who go under the banner of the Emergent movement. In some ways it is a return to a classic liberalism, in others it is a hybrid between the old and new perspectives; often it is just a well-intentioned, eclectic, and not altogether cogent attempt to recover the full social and political scope of the biblical witness. My view is that it does not provide us with a good theological starting point (always keeping in mind that theology is often where we end up rather than where we start), being a much better source of questions than of answers.
However, Jim Hoag quoted a comment made elsewhere regarding the perceived exclusion of the emerging movement from David Fitch's coalition because the "Neo-Anabaptist/Radical Orthodoxy folks… don't get that our hesitancy to give solid answers and root ourselves in one particular theological tradition is itself a deliberate theological response."
I don't wish to reinforce that perceived exclusion. My primary concern as a New Testament theologian is to ensure that evangelical formation and praxis are grounded in a viable reading of the New Testament, and I think that the New Perspective, over time, will provide the best methodological framework within which to do that. But I do not think that this specific prioritizing of New Testament interpretation in a somewhat positivistic manner should preclude the postmodern instincts of the emerging movement. My suggestion, therefore—though it is a bit of a diagrammatic kludge—is that emerging theology may be usefully inserted into the formation stage, between the new theological perspective and an emerging missional praxis.
Question 1. So a first question or point of tension and uncertainty has to do with the progression from the old perspective to the new perspective. Should the evangelical church—I use the term "evangelical" here very broadly—move at all in the direction of the new perspective? How far should it move? Should it abandon the old perspective altogether? Should we look for some sort of compromise, a composite old-new perspective? My personal view is that we have not yet grasped the full implications of the paradigm shift involved here, and that a much wider gulf may yet open up between these two perspectives—to the point that an "evangelical theology for the age to come" may be quite unlike anything that we are now familiar with. But my point here is only that we have barely begun to grasp the implications of this theological shift.
Question 2. The second question or point of tension and uncertainty arises as a direct consequence of the first. Because we are not yet sure what this new theological foundation looks like, or even precisely where it needs to be constructed—how far do we need to move away from the old theological foundations in order to find solid ground?—we are naturally hesitant to set about the task of describing a process of formation; and praxis is entered upon on a very tentative and experimental basis. Given this and the various pressures that churches and mission organizations are under to produce measurable and "orthodox" results, it is not surprising that we sometimes see a strong drift back in the direction of the old perspective and more traditional forms of praxis (represented by the blue arrow in the middle).