Yesterday's post about Simon Gathercole's little book defending substitution as an integral part of Paul's understanding of the atonement got a brief mention in a piece by James McGrath along with a post by Mike Bird on the same subject. Here I attempt to map the three positions represented by McGrath, Bird and me, grossly oversimplifying in all three cases—people are always more complicated than the positions that they sometimes appear to take.
McGrath blogs on the "Progressive Christian" channel at Patheos. He thinks that the doctrine of penal substitution is deeply "problematic as a contemporary theological viewpoint" and that this "is a matter that no amount of prooftexting can address".
Bird blogs on the "Evangelical" channel at Patheos. In the post cited by McGrath he takes issue with a Missio Alliance article in which William Walker recommends a "debt forgiveness" model for the atonement against a penal substitionary or payment model. Bird defends the traditional position on theological and biblical grounds, citing texts which in his view demonstrate that the cross is "satisfaction", "penal" and "substitutionary".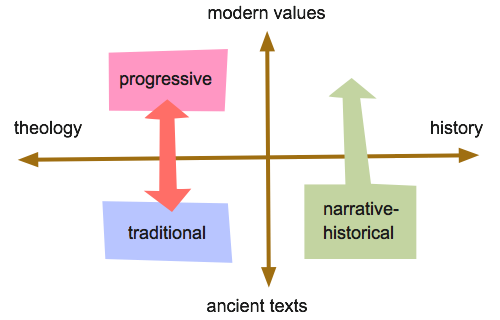 Both positions, it seems to me, assume that there must be a general, coherent theory of the atonement. They belong on the theological side of the chart. Both appeal to scripture for support, and there is plenty of scope for detailed exegetical discussion on both sides. But broadly speaking, it is clear that progressives are much less comfortable with a formulation of the doctrine that conflicts with modern values. One commenter on McGrath's post writes: "The idea that the death of somebody or something else has any effect on whether I should be punished for an unrelated crime doesn't make any sense to me." That is a typically "progressive" starting point. Traditionalists, to the contrary, are more likely to find satisfaction in affirming beliefs that don't make sense, just to be awkward. That would be the caricature at least—I'm not saying that it is true of Mike Bird.
It also appears that progressives are much more likely to make bad jokes about penile substitution. By my reckoning McGrath's post and comments (including comments on Facebook) had a total of 11 punning references, compared to none for Bird.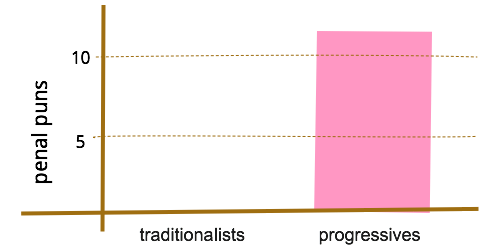 The narrative-historical approach asks how first century Jews and early Christians understood the stories that they told about their historical experience. It doggedly resists the pressure to extract from these stories universalised theories of the atonement that transcend the original historical perspective. It belongs firmly in the bottom-right quadrant. The Bible means what it meant. But it recognises that the narrative continues throughout the historical existence of the people of God into the modern and postmodern eras, raising all sorts of questions and furnishing all sorts of answers, not all of them satisfactory, along the way.
The popular debate about penal substitutionary atonement has been carried out almost entirely on the theological side of the chart between progressives and traditionalists. There has been some attempt to connect with the work of N.T. Wright and Scot McKnight, but people seem to have a hard time getting the point. Walker thinks that the "expansion of the good news" entailed in these scholars' accounts of the kingdom "is not fundamentally corrective enough". It has not yet rid us of a doctrine that is felt to be incompatible with the basic modern theological prerequisite, which is that God must be experienced by individuals as love and grace.
But Walker can't have his cake and eat it. Narrative-historical readings of the New Testament by definition have to work with the Jewish-apocalyptic worldview which frames the whole narrative and controls the theological content. We can't take some supposed "expansive" definition of kingdom (which has probably been misunderstood anyway), wed it to a liberal post-enlightenment ethic, and pretend that it solves all our problems. Whatever the death of Jesus means in the New Testament, it is inseparable from a narrative that has in view the wrath of God, certainly as the historical destruction of the nation, and arguably as the overthrow of an idolatrous civilization.