Read time: 3 minutes
I've tried this sort of exercise before, but reading Magnus Zetterholm's chapter in Paul Within Judaism: Restoring the First-Century Context to the Apostle has prompted me to have another go at schematising the relation between theology and history and the challenge that this presents to the church today. 
We start with the story of Israel. The New Testament is in some respects a climax to this story, but it also projects a narrative future in the language and imagery of Jewish apocalypticism. This narrated future, in my view, consists of judgment on first century Israel in the form of the Jewish War, the faithful witness of the churches in the Greek-Roman world, and the eventual overthrow of pagan Rome and the confession of Christ by the nations of the ancient world.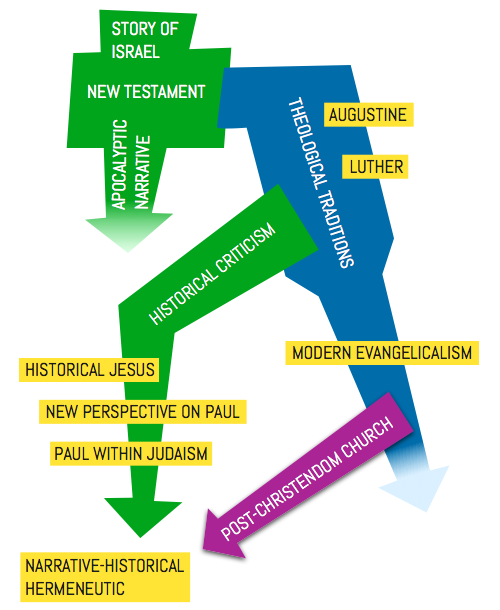 As this apocalyptic narrative is "fulfilled", it is replaced by an alternative theologically constructed worldview, the purpose of which is to define and sustain the mind and life of Christendom. Zetterholm presents this narrowly as the "Development of an Anti-Jewish Paul, tracing the story through Augustine and Luther to the "Formation of a Scholarly Paradigm" (Baur, Weber, Bousset, Schürer), in the nineteenth century, which sharply differentiated Christianity from an inferior Judaism. The situation is obviously complex, but it is reasonable to place modern evangelicalism on this theological trajectory.
The rise of historical criticism at the beginning of the modern period led to a radically different perspective on the New Testament material. For the most part the result was extremely damaging for "faith"—the scientific method undermined the credibility both of the texts and of the people and events that they purported to describe.
Over the last fifty years, however, a different scholarly perspective has emerged and gained force. Historical criticism has also had the effect of recovering the historical context for the New Testament narrative. More recent quests for the historical Jesus have suggested that he makes much more sense—is much more credible—when viewed as an actor in Israel's story.
More importantly for Zetterholm's analysis, with the publication of Paul and Palestinian Judaism in 1977 E.P. Sanders kicked off a radical revision of the relationship between Paul and second temple Judaism, which has generated the New Perspective on Paul (associated especially with Dunn and Wright), and the "Paul within Judaism" argument, represented by the contributors to this book. The effect is that the New Testament is being more and more tightly re-integrated into the narrative and theological frame of second temple Judaism. This is a major element in what I term a "narrative-historical" hermeneutic.
The final point I would make is that the post-Christendom church will sooner or later have to abandoned the theological paradigm and learn to live and work according to the recovered historical narrative of the people of God. I think it can be done, but as James Mercer observes, the practical challenge is immense. It takes a long time to adjust to paradigm shifts, but I share something of Zetterholm's confidence: 
The binary ideas that Christianity has superseded Judaism and that Christian grace has replaced Jewish legalism, for example, appear to be essential aspects of most Christian theologies. Nevertheless, as in the case with the Jesus, proponents of the so-called Radical Perspective on Paul—what we herein prefer to call Paul within Judaism perspectives—believe and share the assumption that the traditional perspectives on the relation between Judaism and Christianity are incorrect and need to be replaced by a historically more accurate view. It is Christian theology that must adjust, at least learn to read its own origins cross-culturally when demonstrated to be necessary on independent scientific grounds. I am quite confident that Christianity will survive a completely Jewish Paul, just as it evidently survived a completely Jewish Jesus. Religions tend to adapt. (34)