Read time: 2 minutes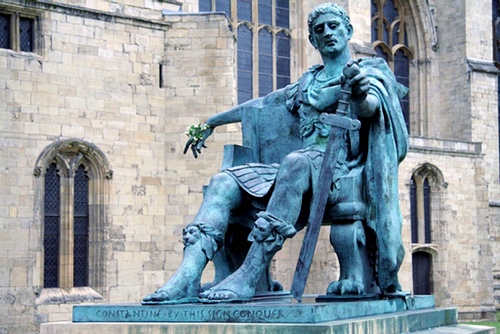 Peter Leithart has written an excellent, concise, balanced account of the "Christendom model", its relation to scripture, and its strengths and weaknesses, in a post simply entitled "For and Against Christendom". I won't bother summarising it—I hope people will read it. But there are three observations that I will make.
First, Leithart is a rare theologian who recognises the positive connection between Christendom as a historical reality and the biblical narrative:
Christendom is inherent in the gospel. Yahweh promised Abraham that kings would come from him. Psalm 2 proclaims that the Lord has set His anointed at His right hand to rule the nations, and the New Testament explicitly applies this Psalm to Jesus…. Paul preaches the gospel of the son of David in order to bring about the "obedience of faith" among the Gentiles…
That is exactly what I have been saying all along: "Christendom is inherent in the gospel." Perfect!
Secondly, Leithart says that Christendom acknowledges the church as the body of Christ. I would hesitate to use "body" language in this context. I think it belongs to the period of eschatological transition rather than to the settled circumstances of Christendom. As a body the church is either a mutually supportive, etc., community of the Spirit (1 Cor. 12:12-27; Rom. 12:4-8) or it is that community which will depend on Christ's preeminence as it too faces suffering and death (Eph. 1:22-23; Col. 1:18). It is not the church as a "religious society" in a strained relationship with the state, for which "prophetic priesthood", or some such, seems more appropriate.
Thirdly, Leithart seems to think that Christendom will always be with us in some form: "The history of Christian politics has been and will always be a messy history." At least, there is no "post-Christendom" part to his argument.
I agree that "the church is the present outpost of the eschatolog[ical] city of God, an independent polity". But Christendom entailed an active partnership between church and state, a mutually beneficial contract between church and society, and that arrangement seems to me to be a thing of the past. If "Christendom fulfills the gospel as the response of the nations to the authority of Jesus" (Leithart cites Oliver O'Donovan), I think we also have to accept that it has become a temporally limited expression of the eschatological expectation.
We are now beyond the fulfilment of the political-religious dimension of biblical eschatology, we have moved beyond the kingdom of Christ as a concrete historical phenomenon. As a priesthood or chaplaincy the church in the secular West no longer has political or cultural endorsement. Whether we can win back trust on other terms, remains to be seen.