Read time: 12 minutes
Emi is a seventeen year old high school student in the Seattle area. She has posted a couple of lengthy comments on this site in which she expresses the struggle she is going through trying to reconcile the narrative-historical reading of the New Testament, which she understands and summarises remarkably well, with certain deeply held convictions about salvation.
I wrote a piece on the biblical argument about salvation in response to her first comment. Here I've tried to answer her second set of questions, which have to do more with the motivation for mission—and indeed for being Christian at all. Hopefully it adds something new to the conversation and I am not just repeating myself.
Emi starts by voicing her bewilderment: "I feel more lost than I ever have before." I'm not sure to what extent the narrative-historical method is to blame for that. It has considerable explanatory power, but it also cuts at right angles across our traditional readings of the New Testament, and it's perhaps not surprising that we are left feeling disoriented.
At the heart of her concern, it seems, is the shift of emphasis away from mission as saving people from some dreadful ultimate fate to mission as corporate witness to the sovereignty of God under particular historical conditions, which is sort of what I was getting at here.
You haven't explained if non-Christians are for sure damned to death at the final judgment, or if there is a possibility that if their actions were good enough, their verdict could be of a kind other than death.
That's good—at least I've made it clear that non-Christians are not damned to eternal conscious torment in hell at the final judgment.
My argument has been that most of what is said about judgment in the New Testament relates to the historical events of the destruction of Jerusalem and the temple, on the one hand, and the overthrow of classical paganism and the conversion of the nations, on the other. It seems to me in this regard that Paul expected righteous Gentiles to have a part in the age to come on account of what they had done—indeed, that they would put many Jews to shame (cf. Rom. 2:27).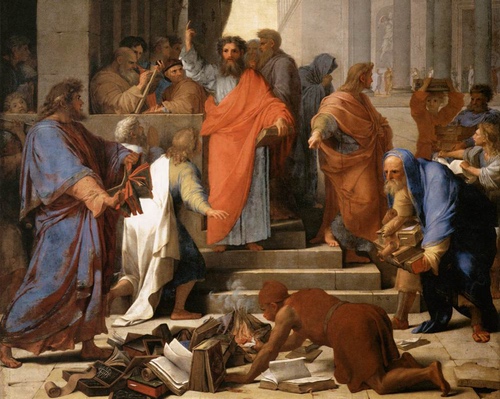 This means that not much is said about the terms of a final judgment. Of course, there are other ways of reading the New Testament, but I don't have much more to go on than the account in Revelation 20:11-15, which says that the dead will be judged according to what they have done.
The lesson to learn? That from a biblical perspective what goes on in history is of much greater theological and missional significance than what happens at the end of history.
This is absolutely essential to our mission, unless we believe that the salvation of people is not of greatest priority in God's whole plan.
To be honest with you, Emi, if we take scripture as an account of the historical existence of the people of God through to the conversion of the nations of the Greek-Roman world, I don't see how we can say that the salvation of people is the "greatest priority in God's whole plan".
God's "plan"—if we must talk in such terms—is to keep a faithful and obedient people for himself throughout history. In the biblical period there are two types or patterns of "salvation". First, Israel is saved from destruction because of their sins, more than once. Secondly, Gentiles are included in saved Israel as a sign that YHWH is God of the nations and not of Israel only and will soon judge and rule over the nations. Salvation is integral to the story, but it is not the whole story; it is a means to an end.
Today there is an open door for all people to enter and experience the new creation life of the redeemed and transformed people of God. But that is not the mission of God, it merely makes the mission of God possible.
If it is not, then I don't know how I can believe in Christianity.
That's interesting. What is the logic that leads you to that conclusion? That God is morally obliged to save every human who has ever lived from a final death, whether they want to be saved or not? That everyone has a right to eternal life? That living after death is more important than knowing, loving, and serving in the world as we know it?
In Paul's lengthy argument in 1 Corinthians it is not Jesus' death for the sins of Israel that is the sine qua non of faith but the resurrection: "And if Christ has not been raised, then our preaching is in vain and your faith is in vain" (1 Cor. 15:14). He is saying, in the first place, that there is no point in them risking their lives for the gospel if there is no prospect of resurrection. But the main story about resurrection is that God has put all things under Jesus' feet, that he must "reign until he has put all his enemies under his feet", the last enemy being death (1 Cor. 15:25-26).
Paul's reason for believing in Christianity was not that it was a way to get as many people as possible saved but that he had been convinced by the revelation on the road to Damascus that God had raised Jesus from the dead and put him in control.
God's love for people is present throughout the entire Bible, and God repeatedly acts to save His people, so it seems like I can say with confidence that within God's priorities are the well-being and fates of humans.
I'm not sure that God's "love for people"—if you mean all people—is so obvious, but it's certainly true that he "repeatedly acts to save His people". The second part of your statement is an inference. It may be true, but I think we would struggle to demonstrate it from scripture.
You would be on stronger ground , I think, if you had said "God's priorities are the well-being and fates of societies or peoples". Arguably, it is not scripture but the Enlightenment that has taught us to value individuals so highly—and consequently to prioritise personal salvation. The biblical story is about nations, empires and civilisations.
Therefore, if the well-being and fate of those outside of God's people aren't important to God, then God (and Christianity) seems exclusive and unfair.
To my way of thinking—and yes, my way of thinking could be wrong—this gets it inside-out. In the modern era the evangelical church in particular has sought to attract people by highlighting the benefits of Christianity—primarily the personal benefits, but more recently also the relational and communal benefits.
There are good reasons for the strategy. Consumerism has got the better of church attendance, so perhaps the decline can be arrested by offering a consumerist version of Christianity: you get all these good things and eternal life after you die—and frankly the cost is minimal.
But the biblical people of God came into existence, and survived the vicissitudes of history, not because God pitched his stall in the market place of the world and offered all-comers prosperity and eternal life.
It is always a people called to resist the world, to take up the very difficult way of faith, faithfulness and obedience, to serve the living God, and to suffer if necessary, on account either of its own sins or of the sins of others. The promise to this people is that God will love and prosper them, he will sustain and vindicate them, but not—contrary to popular opinion—unconditionally.
My answer to your question about the fate of humans is that the world does what it has always done, ever since people settled in a plain in the land of Shinar and began to build a tower to heaven to make a name for themselves (Gen. 11:9). The world doesn't want to serve the living God, so why would it want to be saved?
Those who joined God's people did so because of literal, specific humans having acted to share Christianity with them, and so God's lack of concern with anyone who happened to not get that opportunity seems unfair to me.
Yes, this is what we have been doing in the modern era, but I don't think it's an accurate account of mission in the New Testament. The "literal, specific humans" who travelled across Asia Minor and Europe in the first century were not simply trying to save as many people as possible. They were telling the nations of the Greek-Roman world that the God of Israel had raised his Son from the dead, had given him all authority and power, and had made him judge and ruler not only of his own people but also of the nations. It was a "political" message with a "political" outcome in view.
Most people dismissed the claims as nonsense. A few believed the good news and began to live as though the rule of Christ over the nations was already established—they lived as though the kingdom of God had already come about, even though it wouldn't actually happen for another three hundred years.
These "believers" were "saved"—they became part of the redeemed, renewed, transformed, Spirit-empowered people of God, and they became heirs of God's new future. But it would be a serious distortion of the narrative if we were to assume that it was all about getting as many people as possible into heaven.
It seems that in this case, God would be caring only for those who received the chance to be told about Christianity and cared for so they might choose to join God's people. Accordingly, God would not be caring for others even though most of the others are only others because they did not receive the same chance.
But if the validity of Christianity depended on it providing a rational and efficient method by which all people get to hear a personal message about Jesus, then we might as well all go home. At no point does the biblical story about the people of God move in this direction.
Look at Paul's argument in Romans 1:18-32. People should have recognised the nature of God just by looking at the world, but they did not honour the creator, they worshipped images of creatures instead. Therefore, God handed them over to dishonourable passions and a debased mind. The point was not that God didn't care for lost people. It's that pagan humanity had not cared for God.
…God's concern seems to be with the goodness of all of Creation, and Christ's act of salvation enabled the inclusion of as many people as possible into the new creation people.
But we're not talking about the "goodness of all Creation". We're talking about the waywardness and indifference of human societies throughout history. That a covenant people exists at all is exceptional, it's not normal, it's unnatural.
Paul would certainly have liked "all Israel" to be saved (Rom. 11:26), but he doesn't mean every individual Jew; he means Israel as a people.
He also writes to Timothy that God "desires all people to be saved and to come to the knowledge of the truth" (1 Tim. 2:4), and on the face of it, that would lend weight to your argument. But the statement belongs to the exhortation to pray "for all people, for kings and all who are in high positions, that we may lead a peaceful and quiet life, godly and dignified in every way" (1 Tim. 2:1–2).
What Paul has in mind is the situation of the believers in pagan society at large, and I rather think that the "all people" who would be saved are the same "all people… kings and all who are in high positions" for whom he urges supplications, prayers, intercessions and thanksgivings.
In other words, the thought is less of lots of individual people being saved (and going to heaven when they die) than of the whole Greek-Roman world abandoning its idols and turning to serve the living God. And so it came to pass.
In historical terms, the conversion of the nations was to be the climax to the biblical narrative about the kingdom of God. I'm not at all sure that we should have the same expectation today. The world has moved on.
My assumption is that the secular West is drifting further and further away from its Christian past, which will make it ever more difficult to sustain a theology that prioritises the salvation of individuals. But—marvellously, I think—it will help us to recover the theological force of the biblical narrative as the story primarily of a people that struggles to maintain its witness to the living God under severe internal and external pressures.
How could it not be a priority in our mission to get as many people as possible to take the chance to become part of the new creation people, which realizes the goodness of all of Creation?
I don't have a problem with that as far as it goes, but I think we need to move beyond simplistic and naïve models of mission as maximising personal salvation. My argument in the previous post was not that we should abandon either personal evangelism (or something like it) or social activism but that we need to tell a better story about why we are doing these things.
You have often said that we as post-Christendom and post-NT Christians must now find our new purpose and identity in this new context, culture, and historical time period. Does that mean there is no solid, definitive, conclusive answer to my question of what our mission is?
I think that the church is going through a long, difficult, painful and confusing period of reorientation after the collapse of Christendom. The narrative-historical approach, which I think is being broadly driven, defined and sustained by good biblical scholarship, is an invaluable asset in this transition, but it is still a work in progress, and I hesitate to say where it might be taking us in terms of mission.
Having hesitated, though, I would say that it makes a lot of sense to frame the overarching missio Dei in the Western context in the words of the Lord's prayer: "Hallowed be your name". Like the exile generation of Israel and the synagogues of Paul's day, the modern church has done a pretty good job of discrediting the creator, of destroying his reputation, of profaning his name among the nations (cf. Ezek. 36:22-23; Rom. 2:24).
So the question would not be whether we do personal evangelism or seek social justice, but whether in doing these things we cause the name of the living God to be held in esteem, honoured, respected—hallowed in the diverse market places and institutions that constitute Western secularism.
How in the world do we find our new purpose and identity if Scripture as a result of being specific to a specific contextculturehistory does not provide us guidance? Do we wait for a new revelation or addition to Scripture?
It does provide us guidance. It teaches us very clearly that we are a priestly-prophetic new creation people called to serve the living God and to walk in his ways. Our "king" is Jesus. We live by the Spirit, by whose power we seek to serve and live well.
As a narrative, scripture teaches us that we need to work this vocation out under our own peculiar historical circumstances, which demands some improvisation, particularly at times of great upheaval and transition (see "On second thoughts, the five act play model doesn't work"). But it shouldn't be beyond us. It's been done before.
Sorry this got so long.
Happy Christmas, Emi.