Read time: 3 minutes
I am delighted—and a little nervous—to announce that my new book End of Story? Same-Sex Relationships and the Narratives of Evangelical Mission has just been published by Wipf & Stock. The book explores how scripture frames the ancient phenomenon of same-sex sexual relations narratively—in effect, eschatologically—and asks whether the narrative, from the perspective of the missional church in the secular West, has moved on to the point that the phenomenon needs to be reframed. Here's what it says on the back cover:
This book is an exercise in a thoroughgoing narrative theology. The social and legal validation of same-sex relationships in the West over the last two decades has presented an immense challenge to the church insofar as it seeks to remain faithful to Scripture. But it is not an isolated ethical problem. It is just one element—albeit a very important one—in the much broader, long-term overhaul and reorientation of Western culture after the collapse of the Christian consensus. The forces of history that are driving this transformation, however, have also alerted us to the historical perspectives that constrained biblical thought.

Andrew Perriman suggests that Paul's argument about same-sex behavior, perhaps more clearly than any other issue, highlights the narrative shape of the mission of the early church in the Greek world. By the same token, we must ask how that storyline has been refracted across the boundary of modernity, and how it now shapes the mission of the church as it adapts to its marginalized position in an aggressively secular world.
The cover design echoes a diagram that I use occasionally to highlight the epochal character of the post-Christendom transition. The New Testament proclaims the decline of both second temple Judaism and classical paganism and the corresponding ascendancy of the "Christian" worldview.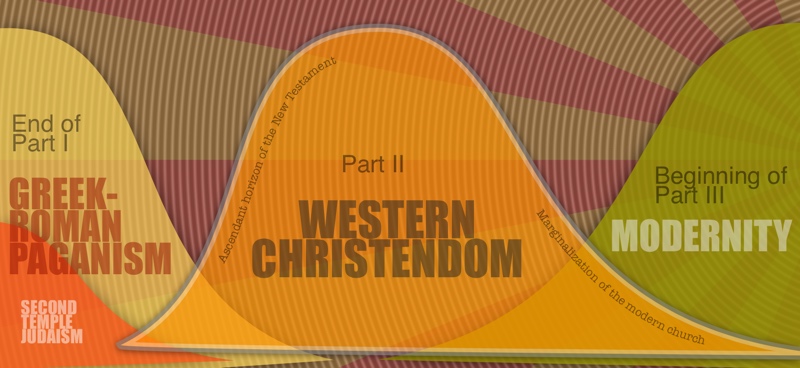 The mission of the church today is more or less the mirror image of that narrative-historical outlook: the Christian worldview—the rule of Christ over the nations of the formerly pagan world—is in sharp decline; a powerful new worldview is in the ascendancy. I think that a narrative missiology must embrace this development and must learn to articulate a cogent prophetic response that will give bearings to mission in general terms but also, specifically, to the "accommodation" of an evolving secular anthropology.
In his endorsement of the book, Brian McLaren says that it "sketches out a way forward that many who work within a rigorous Evangelical and missional hermeneutical tradition will find helpful." I doubt that many who work within a rigorous Evangelical and missional hermeneutical tradition will be impressed by an endorsement from Brian McLaren, but I think that it's a perceptive comment. I hope he's right.
Please read the book, and let me know what you think. It's available on Amazon and no doubt elsewhere. It represents my own views, not those of any church or organisation with which I may be associated.