Read time: 2 minutes
This is a fundamental dilemma facing biblical hermeneutics: how do we get from scripture as ancient religious text, which is at one level at least unquestionably what it is, to scripture as Word of God for the church today, which at one level at least is unquestionably what it needs to be? Arguably it is the most serious dilemma currently facing biblical interpretation.
The dilemma consists in the fact that there are two broad trajectories that interpretation can take, given the starting point of scripture as an ancient text. The first is the route of theological interpretation, which is the route that has mostly been trodden throughout the history of the church. The second is the route of historical interpretation, which was discovered only quite recently through the application of the historical-critical methods.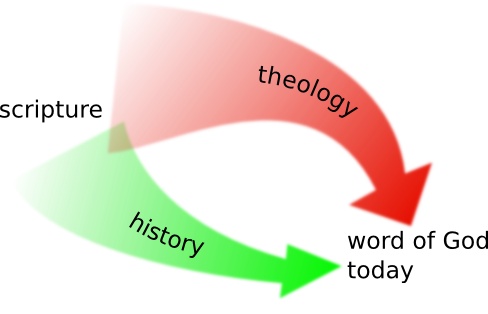 Theological interpretation has largely been of the opinion that consistent historical readings will not generate a viable, evangelical Word of God for the church—and it has to be said that the evidence for the most part has supported that opinion. Therefore, history must first be assimilated into theological interpretation, which usually means theological tradition, and in effect de-historicized, before it is may be permitted to address the church.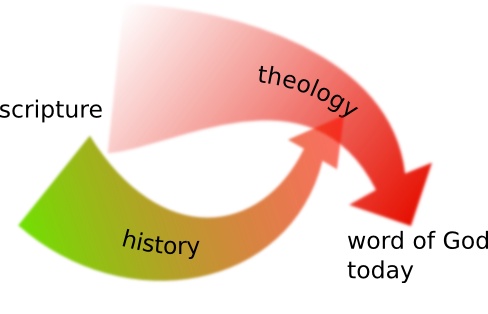 I would argue, however, that historical readings are in and of themselves theologically significant and capable of addressing the church today with the force of the Word of God. What makes this possible is the fact that scripture is already the theological—and more particularly prophetic—interpretation of history.
This argument would probably lead us to modify Campbell's base-superstructure model. The base is not merely text waiting to be interpreted theologically. It is already a theological engagement both with prior texts and—retrospectively and prospectively—with history. It speaks as Word of God now because the church is an extension of that engagement. This does not mean that we have no further need for theological constructs that transcend or disregard the contingencies of history, just that we do not need to be protected from history in the interests of theology. Indeed, I would suggest that by grasping the evangelical force of the historical narrative we potentially unleash theological creativity because we do away with the need for dogmatic restraints.